Kino Lorber Announces its November Home Video Releases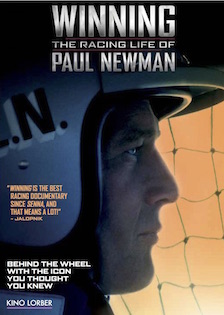 Winning: The Racing Life of Paul Newman
DVD Street Date: November 10, 2015
DVD SRP $24.95
DVD UPC 738329201371
Documentary | 2015 | NR | 83 min | English
Director Adam Carolla, Nate Adams


Synopsis: The world knows Paul Newman as an Academy Award® winning actor with a fifty-plus year career as one of the most prolific and revered actors in American Cinema. He was also well known for his philanthropy; Newman's Own has given more than four hundred and thirty million dollars to charities around the world. Yet few know the gasoline-fueled passion that became so important in this complex, multifaceted man's makeup. Newman's deep seeded passion for racing was so intense it nearly sidelined his acting career. His racing career spanned thirty-five years; Newman won four national championships as a driver and eight championships as an owner. Not bad for a guy who didn't even start racing until he was forty-seven years old.


Special Features: Adam Carolla interviews with Mario Andretti, Patrick Dempsey, Jay Leno, Graham Rahal, and Bob Sharp / Adam Carolla restores Paul Newman's 1985 GT-1 Championship car / Trailer / 5.1 Surround
Far From Men
DVD Street Date: November 10, 2015
DVD SRP $29.95
DVD UPC 738329201579
Drama | 2014 | NR | 101 min | French, Spanish, Arabic
Director David Oelhoffen


Synopsis: In 1954 a reclusive ex-soldier (Viggo Mortensen) is thrown into the woes of rebellion when he's ordered to escort a villager (Reda Kateb) accused of murder to prison during the Algerian War. As their journey leads them through a deadly fire-fight between settlers and rebels, the two men on opposite sides of the conflict must join forces to survive in this adaptation of Albert Camus' short story "The Guest".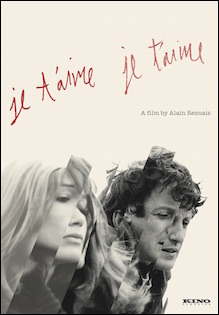 Je t'aime je t'aime
Blu-ray and DVD Street Date: November 10, 2015
DVD SRP $24.95
DVD UPC 738329195120
BD SRP $29.95
BD UPC 738329195229
Drama | 1966 | NR | 94 min | French, Dutch, English
Director Alain Resnais
Synopsis: Je t'aime Je t'aime is a haunting tale of romantic obsession and time travel, a traumatic break-up caught in an endless loop. It is science fiction as only Alain Resnais ("Last Year at Marienbad") could have made. Claude Ridder (Claude Rich) is recovering from a failed suicide attempt after the collapse of his relationship with Catrine (Olga Georges-Picot). He is approached by an obscure scientific lab, who wants him to participate in the human trials of a new time travel device. The test will send him back one year's time, for one minute. But the machine goes haywire, and Ridder gets caught in a never-ending series of temporal leaps, re-living his tragic life out of sequence. His past is a nightmare he is trying to escape, and the only exit might be his own death.


Special Features:
Booklet essay by Jonathan Rosenbaum (Blu-ray only)


Audio interview with Alain Resnais


Interview with Claude Rich
The Meeting of Alain Resnais and Jacques Sternberg
Trailer
Goodbye Gauley Mountain
DVD Street Date: November 17, 2015
DVD SRP $29.95
DVD UPC 738329197223
Documentary | 2013 | NR | 70min | English
Director Beth Stephens with Annie Sprinkle


Synopsis: This is the story of two ecosexuals' quest to help save the Appalachian Mountains. Beth Stephens is a native West Virginian, born and raised in the bosom of Gauley Mountain. Now she is an artist and professor living in California with her wife Annie Sprinkle, a renowned feminist porn star, artist and sexologist. Together they infuse the fight for environmental justice with sexy fun and surprising activist strategies. They take the Earth as their lover, marry the Appalachian Mountains, and raise awareness about the devastation of mountain top removal mining while celebrating life in all its sensuous glory.


Special Features: Ecosex Weddings, Podcast interview with Beth Stephens and Annie Sprinkle, Trailer
Faust (Blu-ray/DVD Multiset)
Blu-ray and DVD Street Date: November 17, 2015
BD SRP $34.95
BD UPC 738329201913
Drama, Fantasy, Horror | 1926 | NR | 106 min | German Intertitles w/ Optional English Subtitles
Director F.W. Murnau


Synopsis: Mobilizing the full resources of the Ufa Studios, F.W. Murnau (Nosferatu, Sunrise) orchestrated a colossal adaptation of Goethe's Faust that ranks alongside Fritz Lang's Metropolis as the greatest achievements of the German silent cinema.


Gösta Ekman stars as the titular alchemist who, struggling with his faith amidst a devastating plague, is offered the power to cure and the gift of youth... in exchange for his soul. As the diabolical Mephisto, Emil Jannings (The Last Laugh) delivers a performance of operatic intensity, by turns charming, comical and horrifying.


This special edition contains the Friedrich-Wilhelm-Murnau-Stiftung's meticulous HD restoration of the original German release version of the film, as well as a DVD of the lengthier alternate cut prepared by the Ufa Studios in 1930 for distribution in the U.S.


Special Features: Piano score by Perez de Azpeitia, adapted from the original 1926 orchestral arrangement, Orchestral score by the Mont Alto Motion Picture Orchestra, Orchestral score by Timothy Brock, performed by the Olympia Chamber Orchestra (U.S. Release version), "The Language of Shadows: Faust" - a 53-minute documentary on the making of the film and its subsequent restoration, Screen test footage of Ernst Lubitsch's abandoned 1923 production Marguerite and Faust.
Lost Lost Lost & Walden
(2-Disc)
Blu-ray Street Date: November 17, 2015
BD SRP $44.95
BD UPC 738329185428
Documentary | 1969, 1976 | NR | 177,173 min | English, French
Director Jonas Mekas


Synopsis: Walden (1969), Mekas' first completed diary film, is an epic portrait of the New York avant-garde arts scene of the 1960's, featuring many of Mekas' friends of that period, including Andy Warhol, John Lennon, Yoko Ono and The Velvet Underground.


Lost Lost Lost (1976), comprised of fourteen years of footage, documents Mekas' early years in New York as he and his brother Adolfas build their new life in America, discovering the city and the burgeoning film and arts community of the 1950's and 60's downtown scene.


Special Features:
Walden: Audio Commentary by Jonas Mekas / Short Films by Jonas Mekas: Cassis (1966) Notes on the Circus (1966) Hare Krishna (1966), Report From Millbrook (1965 - 1966)


Lost Lost Lost: Audio Commentary by Jonas Mekas / Short Films by Jonas Mekas: Travel Songs (1967 - 1981) Williamsburg (1949 - 2002) / Jonas (1967 - 1968), a film by Gideon Bachmann


Booklet essay by Ed Halter
A Hard Day
Blu-ray and DVD Street Date: November 24, 2015
DVD SRP $29.95
DVD UPC 738329201401
BD SRP $29.95
BD UPC 738329201418
Action, Crime, Thriller | 2014 | NR | 111 min | Korean
Director Kim Seong-Hun


Synopsis: A pitch-black comedy with style to burn, A Hard Day depicts a day-in- the-life of a cop that goes from bad to worse to cursed.Driving back from his mother's funeral, homicide detective Gun-soo (Lee Sun-kyun) runs over a man in a dark rural street. In a moment of desperation, he dumps the body in a coffin alongside his mother. The disappearance of his accident victim is investigated by a colleague, and, making matters worse, a witness steps forward, a detective named Park (Cho Jin-woong). Park's motives are less than savory, and he begins issuing threats that become more vicious and hit closer to home. Eventually Gun-soo decides to face Park head-on once and for all.


Special Features: Bad Vs. Worst (Featurette), Deleted Scenes, The Making of A Hard Day, Trailer
The Wanted 18
DVD Street Date: November 17, 2015
DVD SRP $29.95
DVD UPC 738329197322
Documentary | 2014 | NR | 75 min | English, Arabic, Hebrew
Director Paul Cowan, Amer Shomali
Synopsis: Through a clever mix of stop motion animation and interviews, The Wanted 18 recreates an astonishing true story: the Israeli army's pursuit of 18 cows, whose independent milk production on a Palestinian collective farm was declared "a threat to the national security of the state of Israel." In response to the Israeli occupation of the West Bank, a group of people from the town of Beit Sahour decide to buy 18 cows and produce their own milk as a co-operative. Their venture is so successful that the collective farm becomes a landmark, and the cows local celebrities- until the Israeli army takes note and declares that the farm is an illegal security threat. Consequently, the dairy is forced to go underground, the cows continuing to produce their "Intifada milk" with the Israeli army in relentless pursuit. Recreating the story of the "wanted 18" from the perspectives of the Beit Sahour activists, Israeli military officials, and the cows, Palestinian artist Amer Shomali and veteran Canadian director Paul Cowan create an enchanting, inspirational tribute to the ingenuity and power of grassroots activism.
One Rogue Reporter
DVD Street Date: November 24, 2015
DVD SRP $24.95
DVD UPC 738329201852
Documentary, Comedy | 2014 | NR | 62 min | English
Director Tom Jenkinson, Rich Peppiatt
Synopsis: Everyone has fantasized about emailing their boss & unleashing what they really think of them. Few actually ever reach for the keyboard. Fewer still end up pressing 'send'. No one has made a film about it - until now. One Rogue Reporter is the story of Rich Peppiatt, a tabloid hack who snaps over his red top paper's fixation with sensationalism over substance and titillation over truth. When the phone hacking scandal engulfs Rupert Murdoch's News of the World, throwing tabloid ethics under the spotlight, Rich decides to use the skills he's honed on Fleet Street to turn-the-tables on the press barons peddling sex, lies and scaremongering under the cloak of journalism. The result is a hilariously satirical documentary: part investigative exposé; part comedy caper; part cri de coeur against unaccountable press power. What began as a critically-acclaimed comedy show at the Edinburgh Fringe has been inventively transferred to the screen with the help of incisive interviewees ranging from Steve Coogan, Hugh Grant and John Bishop through to philosopher AC Grayling and former Deputy Prime Minister John Prescott. One Rogue Reporter is an exploration of the boundaries of privacy, public interest and freedom of expression, using the very editors who abuse these rights as deserving targets of mischief. From infamous former Sun editor Kelvin MacKenzie to feared Daily Mail chief Paul Dacre, this is one riotous tale you won't be reading about in any tabloid newspaper...


Special Features: Additional Interview with Hugh Grant, Q&A, Trailer
The Mask 3-D
Blu-ray and DVD Street Date: November 24, 2015
DVD SRP $19.95
DVD UPC 738329201722
BD SRP $34.95
BD UPC 738329201739
Horror, Thriller | 1961 | NR | 83 min | English
Director Julian Roffman


Synopsis: After the shocking death of a disturbed patient, psychiatrist Dr. Allan Barnes (Paul Stevens) comes into possession of the ancient tribal mask that supposedly drove the young man to his doom. When Barnes puts on the mask, he is assailed with nightmarish visions of monsters, occultists, and ritual torture. Believing that the mask has opened a portal to the deepest recesses of his mind, the doctor continues to explore this terrifying new psychic world even as the mask reveals a latent violence in Barnes' nature that threatens those closest to him.


Shot in Toronto on a shoestring budget, The Mask (retitled Eyes of Hell for its American release) claims the distinction of being the first feature-length Canadian horror movie. Director Julian Roffman turns the act of wearing the anaglyph 3D glasses into part of the theatrical experience: when Barnes' voice intones the immortal words "Put the mask on, now!," the audience puts on their glasses to witness the doctor's visions, a riot of psychedelic imagery rendered in bright, blazing color. Premiering at the 2015 Toronto International Film Festival, this edition of THE MASK was digitally restored by the 3-D Film Archive from the best surviving 35mm film elements.


Special Features:
DVD: 3-D sequences in anaglyph format, Custom anaglyph 3-D glasses, replicating the cardboard masks of the original theatrical release, Newly restored Electro-Magic Sound (optional 5.1 Surround during 3-D sequences), Original theatrical trailer


Blu-ray: 3-D sequences provided in both stereoscopic (3-D television required) and anaglyph formats (red/cyan glasses not included), Newly restored Electro-Magic Sound (optional 5.1 Surround during 3-D sequences), Audio commentary by 3-D film historian Jason Pichonsky, Making-of Documentary, Four trailers and TV spots, 3-D Setup Video (for monitor calibration), Films by visual consultant Slavko Vorkapich: 9413: The Life and Death of a Hollywood Extra (11 min.), Abstract Experiment in Kodachrome (2 min.), Montage Sequences (6 sequences, 12 min. total),
"One Night in Hell", a 3-D animated short from internationally award-winning animation studio and production company Unanico Group, featuring exclusive new music from Brian May & the Czech National Symphony Orchestra.
Red Lines
DVD Street Date: November 24, 2015
DVD SRP $24.95
DVD UPC 738329201869
Documentary | 2014 | NR | 98 min | English, Arabic
Director Andrea Kalin, Oliver Lukacs


Synopsis: In 2011, Syria's Bashar al-Assad answered his nation's demands for freedom by launching a brutal war against his own people. While the U.S. drew red lines for intervention, Assad ramped up the attacks, starving and killing civilians and children, including the use of chemical weapons, leveling cities, targeting journalists and blocking humanitarian aid to millions of victims. Abandoned by the outside world, individual activists stepped in to fill the roles of banned journalists, international aid agencies and feckless foreign governments. Red Lines tells the story of two such activists, who despite overwhelming obstacles, attempt to establish democratic enclaves in their devastated homeland.


Special Features: Deleted Scenes, Trailer